A tsunami warning has been issued after a 7.0 magnitude earthquake hit the Solomon Islands. The quake's epicentre was in the ocean about 56 kilometres southwest of the capital, Honiara, at a depth of 13 kilometres, according to the United States Geological Survey. There were no immediate reports of widespread damage or injuries.
The US Tsunami Warning System said the earthquake hit around 1pm and is now warning there is a tsunami risk.
"Tsunami waves reaching 0.3 to one metre above the tide level are possible for some coasts of the Solomon Islands," it said.
"Tsunami waves are forecast to be less than 0.3 metres above the tide level for the coasts of Papua New Guinea."
The US Tsunami Warning System added Kirakira, Auki and Ghatere are at risk over the coming hours.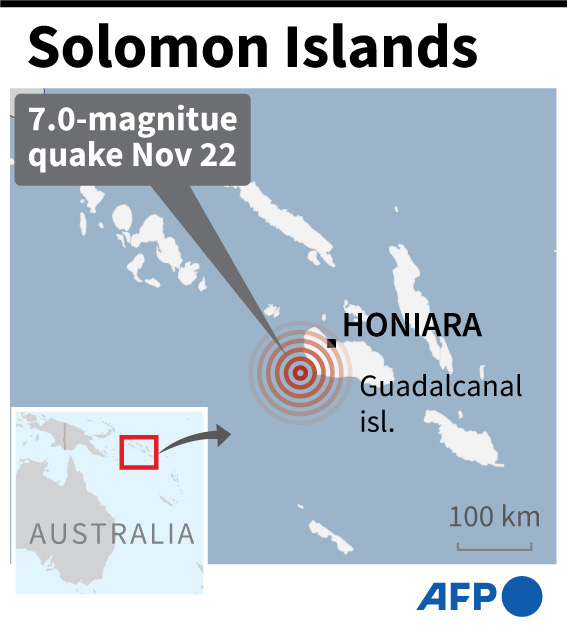 The body also warned coastal areas at risk in this radius should stay alert and follow instructions from national and local authorities.
The Australian High Commission to the Solomon Islands reported the tsunami warning for Honiara has been lifted.
"But expect unusual sea currents around most coastal waters. People are also advised to be vigilant as aftershocks are expected to continue," the authority said.
The Solomon Islands sit on the Pacific Ring of Fire, an arc along the Pacific Ocean rim where many volcanic eruptions and earthquakes occur. The Bureau of Meteorology said there is no tsunami threat to Australia. It comes after a devastating earthquake hit Indonesia's main island of Java overnight, killing at least 162 people and injuring hundreds.