A second earthquake registering 7.5 hit Turkey's southeast less than 12 hours after the first. "We've been shaken by the strongest disaster in a century," Turkish President Recep Tayyip Erdogan said, just before the second quake. He was referring the 1939 disaster that killed about 33,000 people.

Turkey reports that a second massive earthquake in less than 12 hours has hit the southeast of the country. State media in Syria have also said that Damascus was affected by the latest large quake, although details remain scant.
The European Mediterranean Seismological Centre (EMSC) said that preliminary data showed the quake measured 7.7 magnitude on the Richter scale, and was 67 km (42 miles) north north-east of Kahramanmaraş, Turkey, at a depth of 2 km. Turkey's Disaster and Emergency Management Authority stated that it was slightly smaller at 7.6 magnitude and at a greater depth.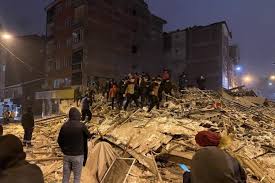 Unfortunately the death toll is likely to climb quickly. A similar magnitude earthquake that hit Izmit in Turkey in 1999 killed more than 17,000 people and left more than a quarter of a million homeless. Early images show the pancake collapse of several buildings in the affected area and these are associated with significant loss of life – typically 30% of those in these kinds of collapse lose their lives.
The earthquake struck early in the morning when people will have been asleep at home and the weather is very cold meaning those trapped in rubble face the threat from low temperatures. The first 24-48 hours is when most people are normally rescued in this situations, but the cold weather may reduce that time. The challenge is further compounded by the fact that there are already large numbers of displaced people in northern Syria as a result of the civil war.